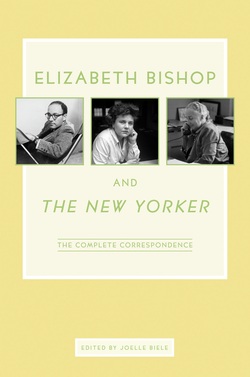 "I sort of see you surrounded by fine-tooth combs, sandpaper, nail files, pots of varnish, etc.--with heaps of used commas and semicolons hand, and little useless phrases taken of their contexts and dying all over the floor," Elizabeth Bishop said upon learning a friend landed a job at The New Yorker in the early 1950s. Bishop published the vast majority of her poems in the magazine's pages, and her relationship with the magazine went back to 1933 and continued until her death in1979. During forty-years of correspondence, hundreds of letters passed between Bishop and her editors, Charles Pearce, Katharine White, and Howard Moss. In these letters Bishop discussed the ideas and inspiration for her poems while sharing news about her travels and life in Brazil, while her editors offered generous support, commentary, and friendship. The correspondence provides an unparalled look into Bishop's writing process, the relationship between a poet and her editors, the internal workings of The New Yorker, and the process of publishing a poem. As these poems and stories move from manuscript page to print, Elizabeth Bishop and The New Yorker gives us a rare glimpse into the artistic development of one of the twentieth century's greatest poets.
A
New York Times Book Review
Editors' Choice
A
Publisher's Weekly
Spring 2011 Top Ten Literary Essays & Criticism
Read an excerpt
"Crusoe in England"
Listen to an excerpt
"At the Fishhouses"
Reviews
"A revelation."
—

Kirkus Reviews
, starred
"Superbly edited..."
—
Publisher's Weekly


"One of the pleasures of
Elizabeth Bishop and
The New Yorker...is snooping around in the excellent footnotes and front matter for the wicked comments she made behind the magazine's back... There are those
—
and, full disclosure, I am among them
—
for whom this kind of shop talk from an adored poet and her serious editors is uncut catnip."
—
Dwight Garner,
The New York Times


"The real pleasure of
Elizabeth Bishop and
The New Yorker is revisiting the poems themselves, in real time, as they arrive on White's or Moss's desk…
These letters show how lively a relationship it was—full of mirth and irritation and remonstrance and respect on both sides.
They are an invaluable contribution to the growing proof of Elizabeth Bishop's greatness."
—Hannah Brooks-Motl,
The New Republic
"Bishop's long and affectionate relationship with the magazine is thoroughly documented in
Elizabeth Bishop and
The New Yorker:
The Complete Correspondence
… Poets and
New Yorker
aficionados will find it irresistible." —Dana Gioia,
The Wall Street Journal
"Meticulously researched and comprehensively edited... Biele is a scrupulous and painstaking editor of the correspondence, tracking drafts and letters through archives far beyond the New York Public Library." —Fiona Green,
Times Literary Supplement
"Through these correspondences, readers are able to feel the thrill of victory and the agony of defeat just as Bishop must have… "Correspondence" offers both a history lesson and a timeless look at how creative people work together… A unique portrait of a singular woman and her enduring talent."
—Ward Sutton,
The Barnes & Noble Review

"
With each poem Bishop submitted to her breathlessly eager editors, primarily Katharine White and Howard Moss--a collection that includes much of Bishop's greatest pieces--the generally congenial, warm back-and-forth between the correspondents enriches the reader's appreciation for the circumstances under which Bishop made her poems, and above all for the poet's extraordinary meticulousness and care." —Adam Sobsey,
Durham Independent
"Elizabeth Bishop and The New Yorker, ably introduced by the poet Joelle Biele, charts her relationship with the first publisher of most of her best poems … Although much of this correspondence is about punctuation … postal delays or illness … there is also regular disagreement about how 'coarse she is allowed to be in [The New Yorker's] genteel pages.' She broke off contact with the magazine in 1961, stung perhaps by its rejection of poems such as her discreetly lesbian love poem The Shampoo, a rejection that has come to seem more significant because Bishop subsequently avoided publishing poems that dealt explicitly with sexuality. [The collection] shed[s] light on the arc of Bishop's development as a poet, and implicitly grants us a sense of the limits that hemmed in gay writers in the middle of the last century." —John McAuliffe,
The Irish Times


To order
Indie Bound
Amazon
Barnes and Noble